Reading picture books about books, words, and
storytelling
builds more literally a child's understanding of all three concepts. Of course, reading in general builds a child's understanding of these in a more abstract sense. Both are foundational.
It's helpful to introduce these kinds of books to children so they start to think about the person behind the stories (the author) as well as how to play around with language and invent stories.
Also Read: Picture Books That Teach Grammar, Figurative Language, and Punctuation
Picture Books About Books, Words, and Storytelling

Give Me Back My Book!
by Travis Foster and Ethan Long
Whose book is it? Two friends argue over a green book with letters and chapters and illustrations until a bookworm grabs it from them both. The friends must work together to get back their book with a little book trickery of their own. Book lovers will appreciate the devotion to a favorite book and the joy of sharing a book together.

Lexie the Word Wrangler
by Rebecca
Lexie's a word wrangler, a cowgirl who mixes up fresh words each morning like corn and bread to make cornbread or turn an annoying pest into good pets. But someone is stealing letters and words from her ranch. Instead of a rainbow, she only sees a bow. Will she catch the sneaky word rustler? A thoroughly delightful word adventure!

Betty's Burgled Bakery An Alliteration Adventure
by Travis Nichols
It's both hilarious and impressive to read a mystery adventure written in alliteration. Betty has enlisted the help of the police to solve the crime of who burgled her bakery. And you'll never believe who did it!! This will be a new read aloud favorite for both home and school. See if you can write or speak in alliterations yourself. Investigate
tongue twisters
and make up your own.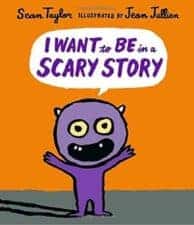 I Want to Be in a Scary Story
by Sean Taylor, illustrated by Jean Jullien
Little Monster wants to be in a scary story. In a conversation between he and the author of the book, Little Monster says to make it a really scary story. But he reconsiders and he asks the author to make the story a little less scary — maybe a funny instead. And the story the author writes for his main character ends up being a little scary and a little funny both. It's a clever premise to have the interaction between author and main character determine the plot. It shows growing writers and readers a bit about the ever changing process of storytelling.

Alpha Better
by Linda Ragsdale, illustrated by Martina Hogan
You'll love this playful alphabet word book full of positive, fun invented words that are combinations of other words. What will you find on the C page? How about
choolo
(choose + love) and
charvelous
(charming + marvelous). Sure to inspire many
word play
inventions of your own as well as many new additions to your every day vocabulary.

Word Play
by Ivan Brunetti
In this simple graphic novel, a teacher helps her students learn about compound words. The kids excitedly think of lots of compound words even at home.

Rocket Writes a Story
by Tad Hills
Rocket loves reading stories so it's only natural that he wants to write his own story. He collects words and looks for inspiration which he finds with Owl. Little by little he adds to a story about his new friend owl. This book is sure to inspire
storytelling
and writing.