Goo, Gak, Goop: Slimy Summer Play
This post may contain affiliate links.
Need another fun summer activity? Make your own goop, gak, flubber! It's slimy fun that gives kids math, science, and sensory play. Talk about learning fun, right?
Goop Recipe
(This is my favorite recipe, adapted from Education.com. However, if you prefer a non-Borax recipe, try this cornstarch Goop recipe on Scholastic.)
Elmer's Glue
Food Coloring
Borax
Water
1. Pour 8 oz. of white (Elmers) glue into a large bowl. I used a glue bottle to measure the amount easily.
2. Pour 8 oz. of warm water into the bowl. (Fill the empty glue bottle to measure the water, too.)
3. Add food coloring (I like cake coloring because it's a stronger color.)
4. Add 4 Tablespoons of Borax. Use your hands to mix.
–>Experiment with the amount of Borax to see if there's a difference in consistency with more or less.
* Borax, is in the laundry aisle of your grocery store. Be safe; borax is toxic so don't eat it.
5. Play!
6. Store in a plastic bag or glass jar.
Activity Ideas For Playing With Goop
1. Make goop in different colors. Layer. Mix. Swirl.
2. Cut up straws and poke into your goop. (Also try toothpicks and sticks.)
3. Make a goop swamp with plastic animals.
4. Play goop monsters. Make Popsicle stick cages for your monsters.
5. Pretend the goop is snot and gross out your friends.
6. Add 3 teaspoons of glow-in-the-dark paint and play goop in the dark. (Find at craft stores.)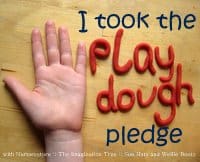 Play Dough Play
After your goop play, how about Play Dough? This week Nurture Store, Imagination Tree, and Sun Hat and Wellie Boots invite you to creatively play and learn with play dough. See their Play Dough Pinterest page and their blogs for lots of imaginative ideas!
In fact, we made pink play dough with sprinkles for some extra sparkle . . . So much fun!

I wonder what you'll make?
Goop?
Play Dough?
Upload your photos to the Imagination Soup Facebook page so we can see what you made!
You Might Also Like . . .


Pretend Play Bakery