"You can't be a good writer without being a devoted reader." – J.K. Rowling
"If you want to be a writer, you must do two things above all others: read a lot and write a lot. There's no way around these two things that I'm aware of, no shortcut." – Stephen King.
The Number One Thing for Kids to Be Better Writers
Most authors will tell you that the NUMBER ONE thing that you can do to become a better writer is to be a READER.
What's even more powerful, LEARNING TO READ LIKE A WRITER.
In other words, be a reader who notices the author's craft.
The great news is: THIS IS NOT JUST FOR ADULT WRITERS!
We can teach children to read like writers…and then apply what they learn.
Reading like a writer grows strong, proficient writers!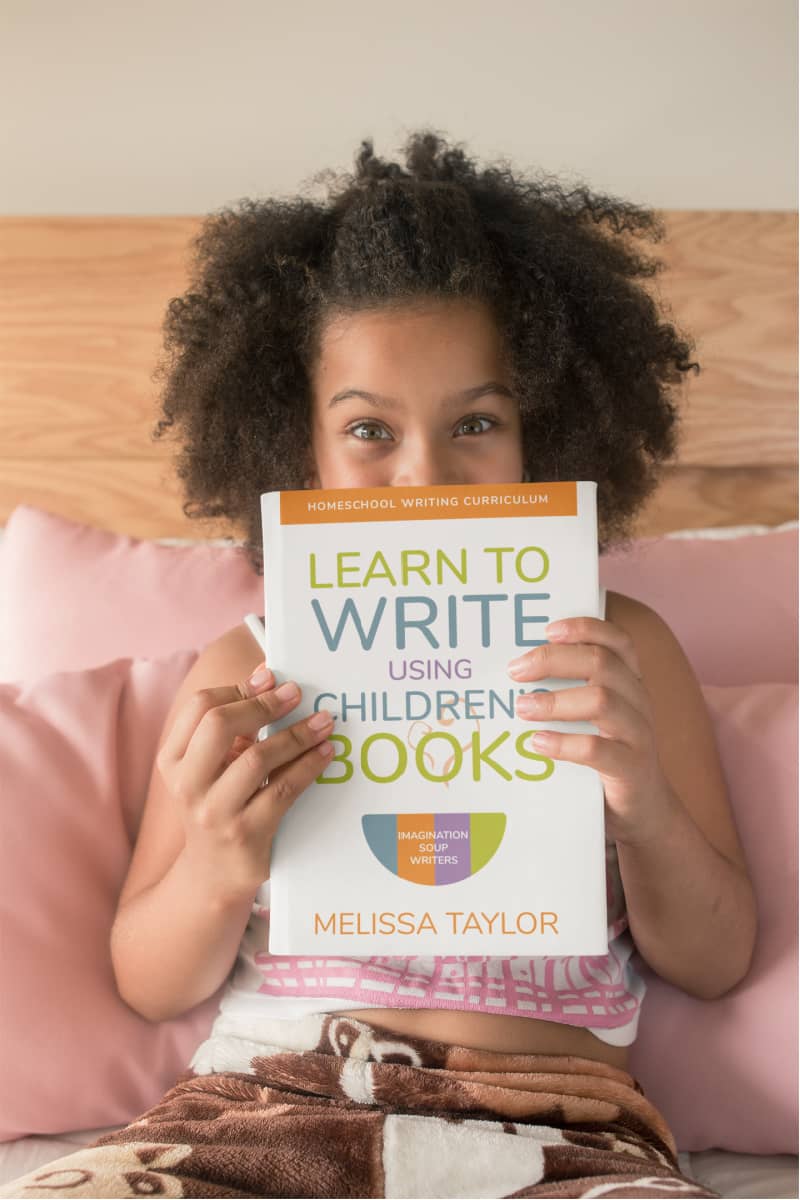 So the plan goes something like this…
Read exceptionally written children's books. 
*Also, called mentor texts since the books "mentor" us as writers.
Notice and label the craft strategies.
Apply those craft strategies to writing.
That plus modeling is what my new (homeschool) writing curriculum teaches children.
Learn to Write Using Children's Books shows children how to use children's books as examples of good writing…and then how to apply it.
This way of teaching writing GETS RESULTS.
A New Homeschool Writing Curriculum
What are the goals of Teach Your Kids to Write Using Children's Books?
Apprentice kids in grades 2 – 6 to excellent writing in outstanding children's books.
Label exactly what good writers do for kids to replicate; things like think of interesting IDEAS, describe with VIVID VERBS, write with SENSORY DETAILS, conclude with SATISFYING endings, and much more.
Help children read like writers.
Explicitly teach students craft lessons that will grow them as writers.
Build a child's confidence and fluency in writing.
Focus on personal narrative, narrative fiction, informational writing, and opinion writing.
Give homeschooling parents or anyone short, doable lessons 4-5 days per week.
And much more!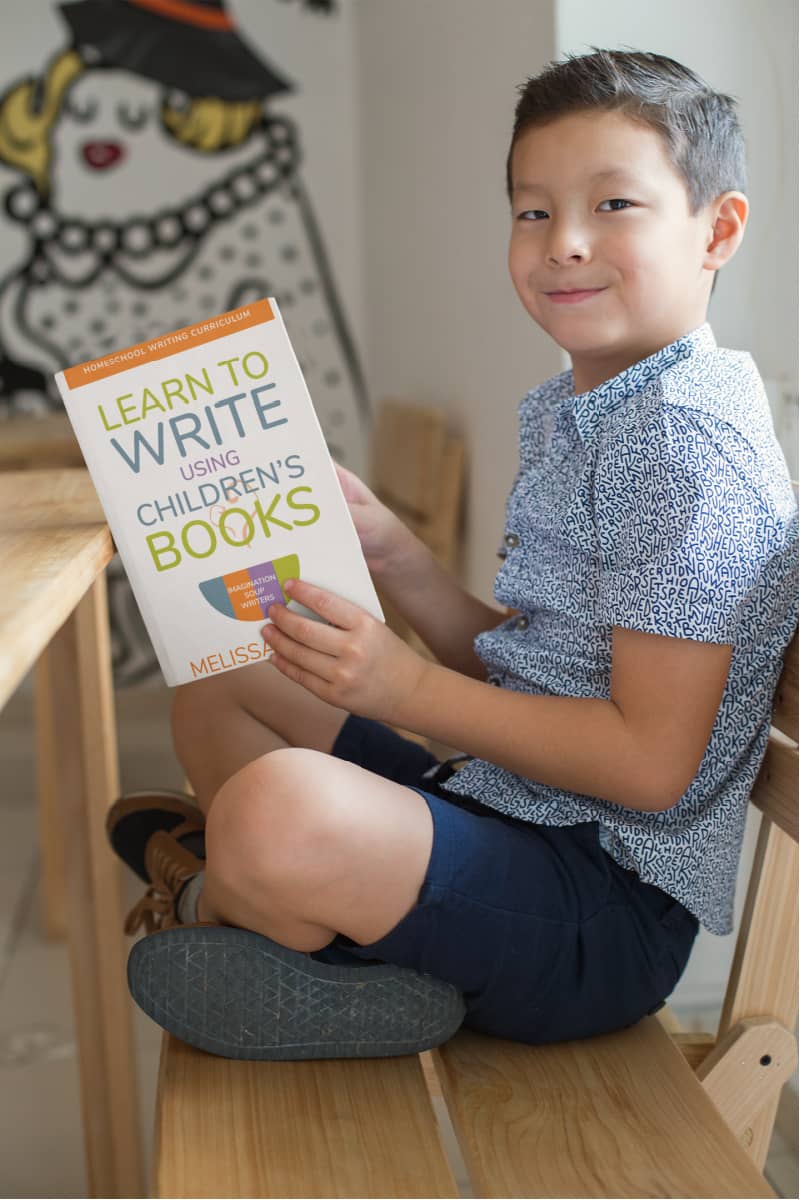 Each month, you will invest in two children's books, either buy them or check them out at the library.
The daily step-by-step lesson plans give you everything you need. They give you the book's pages to read, what to say, related handouts, and the writing applications for kids.
This curriculum shows you how to help kids think of their topic ideas, too! Which is, once kids get used to it, VERY EMPOWERING.
Sample Lesson Plan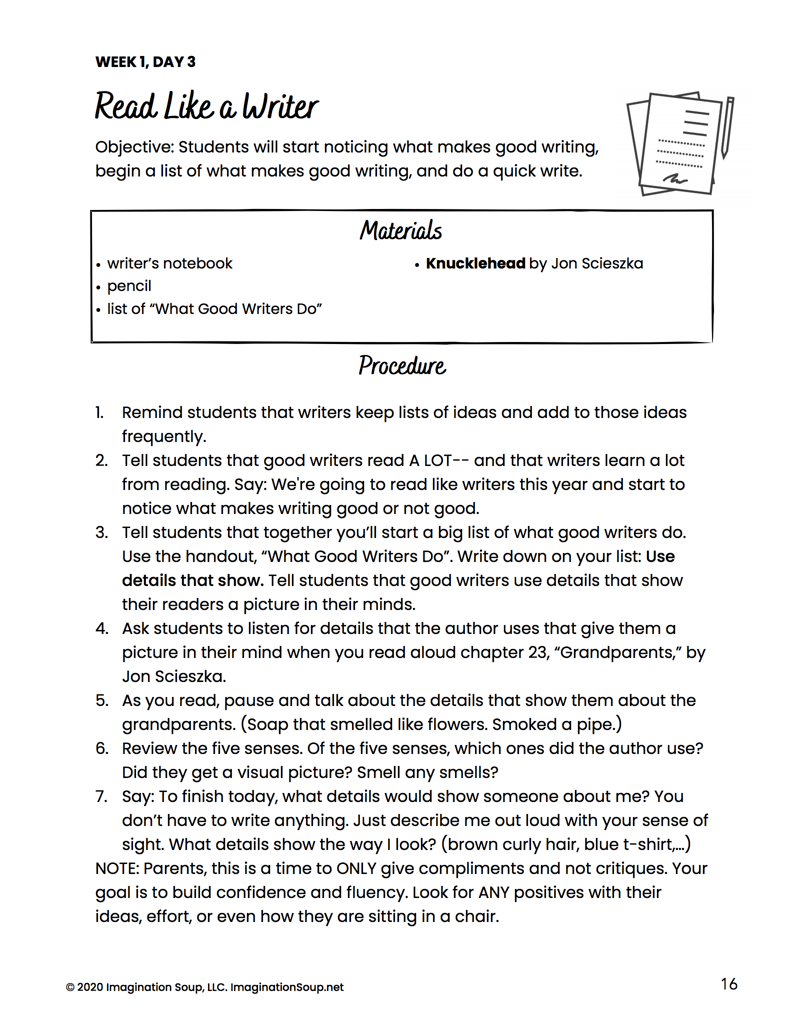 A beta tester wrote me this weekend and said, "You are a creative genius! I have been a learning specialist and academic therapist for a very long time and working with kiddos 1:1 is second nature to me but this year my consulting practice opened it's doors to a group of 7 students who come to us every day for Micro-Schooling. Building curriculum has been a challenge. Building the right curriculum for each student…an even bigger challenge but your writing curriculum has made our lives easy….EVERYONE loves it…EVERYONE benefits from the structure of your lessons."
Wow.
Also, there will be some lessons throughout the curriculum on grammar and editing (capitalization, spelling, and punctuation) but not a full conventions curriculum. Since I don't have a separate curriculum YET for grammar or spelling, you may want to supplement with additional materials. I recommend teaching grammar and spelling 5 – 10 minutes a day separately from writing. However, it is appropriate to include when you're editing.
Oh, and one more thing…I'm writing this curriculum month by month so you'll see monthly options for now, not a full 9-month curriculum quite yet. But, you'll get what you need as you continue on.
Email me for more information: melissa@imaginationsoup.net.
YOU MIGHT ALSO LIKE:
20 Picture Books About Writing a Story
Book Lists of Mentor Texts to Use in Reading & Writing Instruction